Red Mountain Footcare is the type of office you'll want to refer to Your friends and family

Unlike the large, multi-provider, hospital affiliated mega-clinics that seem to be popping up; Red Mountain Footcare is a one-provider office with a small staff that will get to know you and visa versa. We work hard to make sure you are seen quickly and on time. Once in the treatment room Dr. Hardy will take the necessary time to review your condition and explain what you have and what can be done.
Cristyn and Karina work together in the front office to schedule appointments and help with the paperwork that comes with accepting multiple insurance plans. Together, we strive to treat each and every patient with care and concern regardless of age, condition, or circumstance. We want to make your time as a patient at Red Mountain Footcare as comfortable as possible, just as if you were a guest in our home. It's the only way we know.
High Tech Treatments With a Personal Touch
Clinically, you will have access to the latest technology such as digital x-rays and advanced orthotic technology while receiving tried and true time tested treatments. You'd be hard pressed to find a condition that Dr. Hardy has not encountered during his years in podiatry. Your condition and treatment will be explained to your satisfaction. Communication is the cornerstone of a good doctor-patient relationship.
A Team of Specialists
Dr. Hardy has come to know and trust other specialists in family practice, neurology, orthopedics, vascular disease, and physical therapy should your condition require such a referral.
Not every condition needs a team of experts, but it's nice to know there is one available if needed.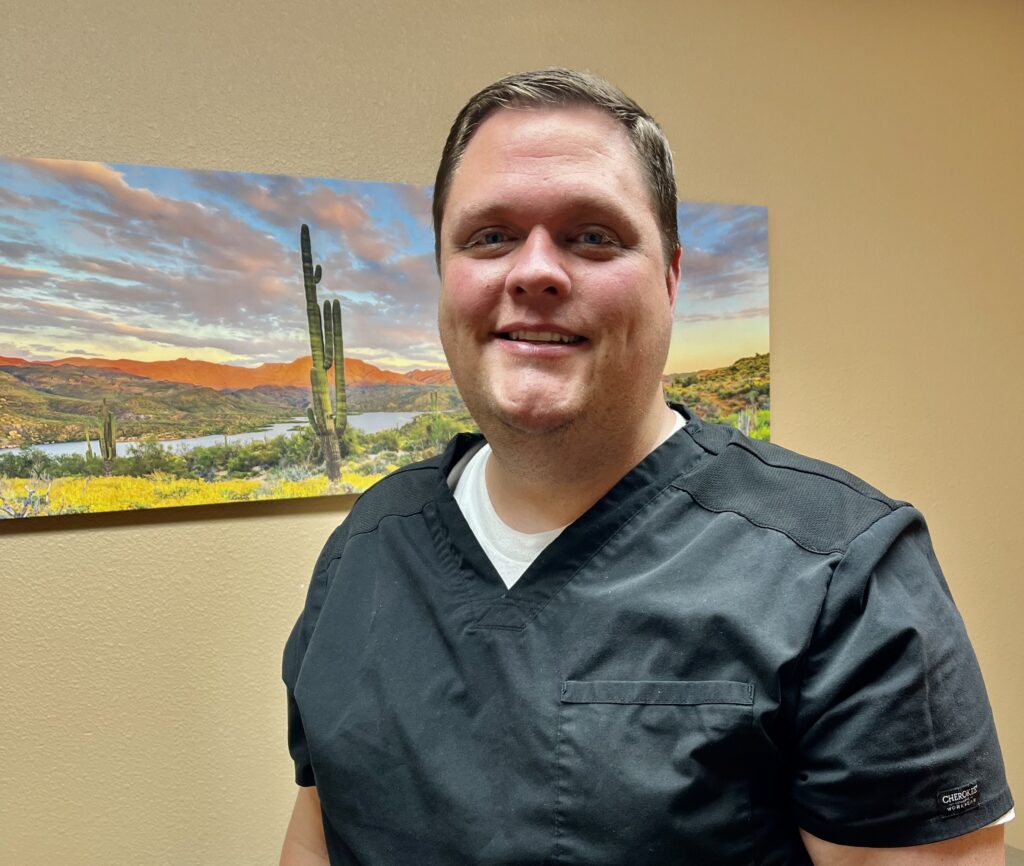 Dr. Spencer Hardy is an Associate Member of the American College of Foot and Ankle Surgeons (AACFAS). He is a Lower Extremity Nerve Specialist as well as a Wound Care Specialist. He is also highly trained in trauma surgery, heel pain, bunions, injuries, diabetic wound care, skin conditions, arthritic care, orthotics, and ingrown and fungal nails.
Dr. Hardy did his undergraduate degree in Kinesiology from Arizona State University. He then completed podiatry school at the Arizona School of Podiatric Medicine at Midwestern University in 2018 where he earned his Doctor of Podiatric Medicine degree. He then went on to train in podiatric surgery, trauma, rearfoot reconstruction, ankle pathology, and wound care through the Franciscan Alliance System in Northwest Indiana. He was chief resident his final year and graduated in 2021. Along with Dr. Hardy practicing in private practice, he is on staff at Mercy Gilbert, Chandler Regional, and Arizona Specialty hospital. Dr. Hardy is also registered at multiple surgery centers.
Dr. Hardy was born and raised in Mesa, Arizona, and he is thrilled to be serving in the community he grew up in. He enjoys spending time with his wife and 4 young children. You can often find him golfing, traveling, and exploring the outdoors. He is also fluent in Spanish.