Benefits of Having an Expert Foot Doc
When it comes to our overall well-being, we often tend to overlook the health of our feet. Foot health is a critical practice, when neglected, it can quickly and intensely impact the health of other parts of the body.Taking care of our feet is crucial, as they support us throughout our daily activities. In order to ensure optimal foot health, it is important to choose the right podiatrist, or more commonly referred to as a foot doctor, who can diagnose and treat any foot and ankle disorders effectively. We wanted to offer some helpful items to consider and process as you begin to select the perfect podiatrist for your specific needs.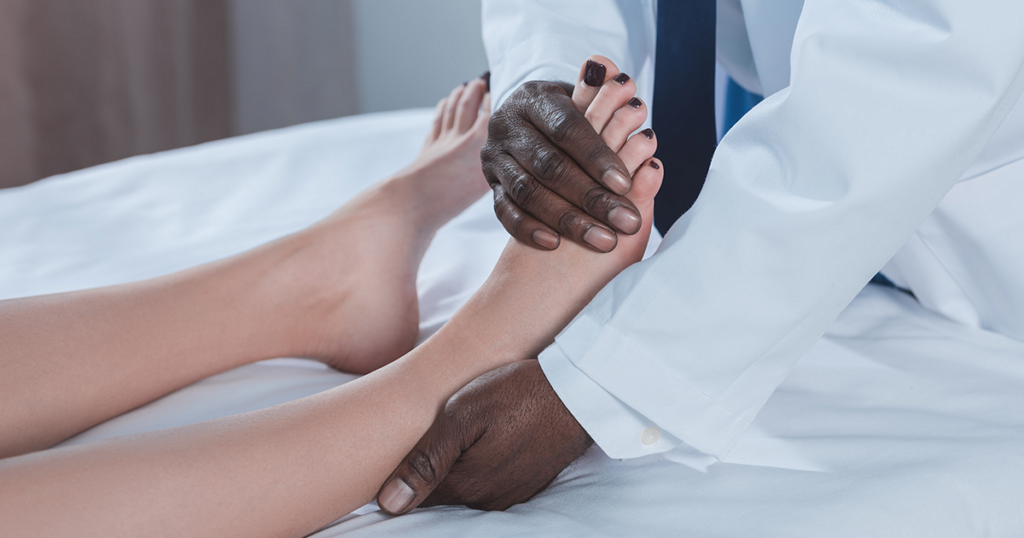 Identifying Your Specific Foot Health Needs
Before embarking on your search for a podiatrist, it is essential to identify your specific foot health needs. Do you have a particular foot condition that requires specialized treatment? Are you looking for preventative care or assistance with an existing issue? By understanding your specific needs, you can narrow down your search and find a podiatrist who specializes in the appropriate area.
Researching Podiatrists in Your Area
Once you have identified your foot health needs, it is time to research podiatrists in your local area. Start by seeking recommendations from your primary care physician, friends, or family members who have had positive experiences with podiatrists. Additionally, utilize online resources such as directories and review platforms to gather a list of potential podiatrists in your area.
Reading Patient Reviews and Testimonials
To gain insights into the quality of care provided by a podiatrist, it is valuable to read patient reviews and testimonials. Online platforms such as Google Reviews, Yelp, and Healthgrades can provide you with firsthand experiences from previous patients. Pay attention to feedback regarding communication, treatment effectiveness, and overall satisfaction. The positive reviews from our satisfied patients at Red Mountain Footcare reflect our commitment to excellent patient care.
Scheduling a Consultation
Once you have narrowed down your options, it is essential to schedule a consultation with the podiatrists on your list. During this appointment, you will have the opportunity to meet the podiatrist in person, discuss your concerns, and assess their communication style and approach to treatment. This will help you determine if you feel comfortable and confident in their care. At Red Mountain Footcare, we offer consultations to ensure that we understand your specific needs and develop a personalized treatment plan.
Asking Questions During the Consultation
During the consultation, do not hesitate to ask relevant questions to gather more information about the podiatrist's expertise and treatment options. Inquire about their experience with your specific condition, the recommended treatment approach, and any potential risks or complications. By asking these questions, you can ensure that you have a clear understanding of the podiatrist's approach to patient care. Our friendly and knowledgeable team at Red Mountain Footcare is always ready to address your concerns and provide you with comprehensive answers.
Considering Insurance Coverage and Payment Options
Before making a final decision, it is essential to consider your insurance coverage and the available payment options at the podiatrist's office. Check if the podiatrist accepts your insurance plan and inquire about any out-of-pocket expenses you might incur. At Red Mountain Footcare, we strive to make the process as smooth and affordable as possible, working with various insurance providers to accommodate our patients' needs.
Top Podiatrist in Mesa, AZ
Choosing the right podiatrist is a significant step toward maintaining optimal foot health. By following these guidelines and conducting thorough research, you can find a qualified podiatrist who meets your specific needs. At Red Mountain Footcare, our team, led by Dr. Hardy is dedicated to providing exceptional care to help you achieve and maintain healthy feet. Take the first step today by contacting Red Mountain Footcare and scheduling an appointment. Your feet will thank you!