How To Prevent Toenail Fungus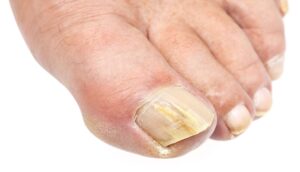 There are several early signs that can indicate you may have toenail fungus.  Such indicators may include the nails becoming thick and yellowed, and may crumble when touched. An infection is likely to develop if the nail is left untreated, allowing the fungus to grow. The aging process may be a factor in developing this ailment, in addition to having poor blood circulation. Medical conditions such as eczema, psoriasis, or athlete's foot allow easier access for the fungus to enter the body through the tiny openings in the skin these conditions may cause.
Preventing Toenail Fungus
Toenail fungus lives in moist environments, and socks and shoes that are worn without proper ventilation make it ideal for this fungus to grow. There are several ways to prevent this condition from developing, and these may include trimming the nails straight across, wearing appropriate shoes in public showers or pools, and utilizing a moisturizer to prevent cracked skin. A consultation with a podiatrist is suggested for a complete diagnosis and possible treatment options that are right for you.
For more information about treatment, contact Dr. Spencer Hardy of Red Mountain Footcare. Our doctor can provide the care you need to keep you pain-free and on your feet.
Toenail Fungus Treatment
Toenail fungus is a problem which affects many people and is hard to get rid of. Fortunately, there are several methods to go about treating toenail fungus.
Antibiotics & Treatments
Lamisil – The most commonly effective treatment for toenail fungus. It is available as an antibiotic: Terbinafine tablet and cream. Terbinafine is a chemical component which kills fungal growth on the body. Applying regular doses will gradually kill the fungal growth. It is important to keep the area clean.
Talcum powder – Applying powder on the feet and shoes helps keep the feet free of moisture and sweat.
Sandals or open toed shoes – Wearing these will allow air movement and help keep feet dry. They also expose your feet to light, which fungus cannot tolerate. Socks with moisture wicking material also help as well.
If you have any questions, please feel free to contact our podiatry office located in Mesa, AZ. We offer the newest diagnostic tools and technology to treat your foot and ankle needs.