Systemic Diseases of the Foot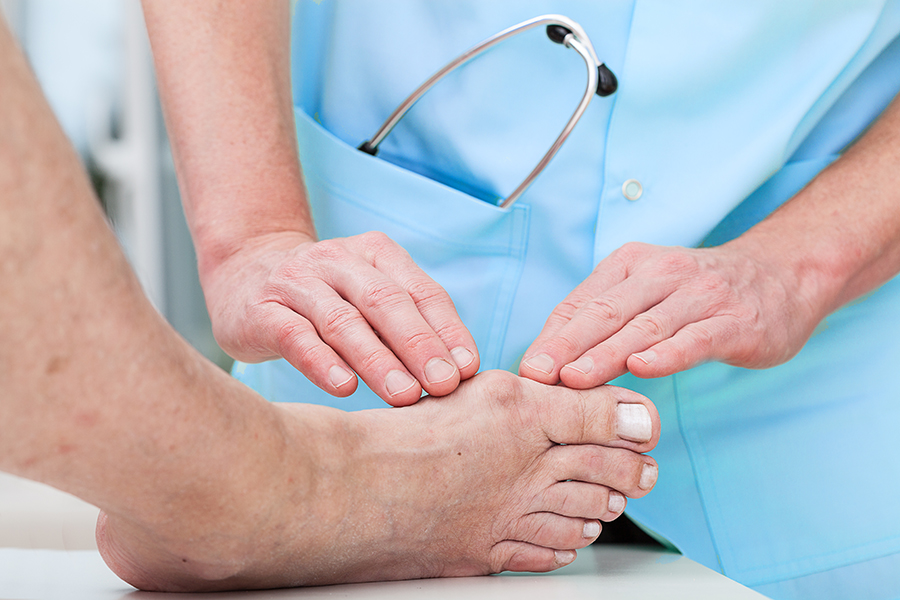 There are several systemic diseases, or diseases that affect the whole body, that either display symptoms in the feet or affect the health of the feet. Common systemic diseases that affect the overall health of the feet, and the patient's ability to walk comfortably, include gout, diabetes mellitus, neurological disorders, and arthritis, among others.
Gout
In gout, which is caused by an excessive buildup of uric acid in the body, the most common symptoms of pain, inflammation, and redness occur at the metatarsal/phalangeal joint at the base of the big toe. Any excess levels of uric acid crystallize and are deposited in tendons, joints, and surrounding bone and muscle tissue. Gout is commonly treated with NSAIDs to relieve pain and inflammation and other drugs to lower uric acid levels in the body. Gout most commonly affects those who are overweight, have low protein diets and lead a more sedentary lifestyle.
Diabetes mellitus
Diabetes mellitus is an increase in the level of blood sugar in which the body cannot counteract with naturally occurring insulin in the body. The three types of diabetes, Type I, Type II and Gestational Diabetes, are all signs the body is either not producing enough insulin or is not efficiently using the insulin that is produced. Gestational diabetes only affects women who are pregnant and have never, prior to pregnancy, exhibited symptoms of the disease.
There are two main issues that affect the feet that are commonly caused by diabetes. They include diabetic neuropathy and peripheral vascular disease.
Diabetic neuropathy can lead to damaged nerves and affect the feet through numbness and loss of sensation.
Peripheral vascular disease restricts the flow of blood to the foot and can, in extreme cases, lead to the necessity of amputating the foot.
Peripheral issues that are caused by diabetes and can affect the foot include athlete's foot, nail infections, corns, blisters, bunions, severe dry skin, plantar warts and ingrown toenails. These can all be attributed to the decrease of blood flow to the foot.
Neurological disorders and rheumatoid arthritis
Neurological disorders and rheumatoid arthritis can also have severe impact on the health of the feet. Neurological disorders can affect the nerves in the main structure of the foot and cause loss of sensation and possible decreased muscle response. Rheumatoid arthritis can affect the bones and joint structures of the foot, making it impossible to walk normally without serious pain.
All systemic diseases that affect the foot can effectively be treated to minimize joint and muscle damage if they are diagnosed early and treated with medication and lifestyle therapy. Diabetes patients must monitor their blood sugar levels and work with their physician to keep their levels as close to normal as possible. Rheumatoid arthritis patients should work with their physician to ensure the proper medications are being taken to reduce the amount of damage to the joints of the body.